---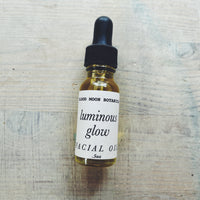 *UPDATED* Now infused with calendula and marshmallow root.
Most facial oils on the market have cheap filler oils, this, does not.
Olive derived squalene, plush pomegranate seed oil, wild watermelon seed oil and sea buckthorn seed oil help nourish, protect and support the skin. This blend is non-comedogenic, full of antioxidants, skin-loving fatty acids and is suitable for all skin types. Particularly wonderful for "mature" skin, where wrinkles, lines and dryness need support.
This blend contains oils of jasmine grandiflorum, neroli (orange blossom) and sandalwood.
3-4 drops is all you need, a little goes a very long way! This blends perfectly with Moon Dew for incredible hydration.
.5oz glass bottle.
Ingredients: squalene, pomegranate seed oil, wild watermelon seed oil, sea buckthorn seed oil, essential oils
A true holy grail. I haven't turned back on this item and exclusively use this and the other facial products. I get compliments on my skin frequently because I've incorporated it into my routine!
Wonderful!
Beautiful product; simple and effective!
Love~
This goes on so smooth and velvety. Nice scent. Hoping it may help with adult acne.
Luxurious
Does just as it's called and smells wonderfully. Nice little travel-size, too. Will definitely purchase again!
This sh** is the best.
I slept on luminous glow for wayyyyy too long, this sh*t is like actual liquid gold. It feels so good on the skin (esp when combined with Moon Dew) and is a staple in my daily routine. I live in the middle of the desert and this keeps my skin so soft and supple and not looking like a lizard. :)