---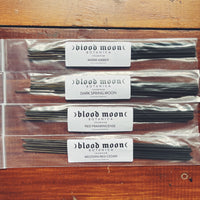 High-quality black charcoal based incense sticks are hand dipped in high quality essential oils, non-toxic fragrance compounds, absolutes and resins. Each fragrance blend is handmade in house. 
Warm Amber, a soft golden amber accord anchored in resins and musk. 
Red Frankincense, a blend of dragons blood and Somalian frankincense. Contains true dragons blood resin.
Summer Daze, sweetgrass, honeysuckle and soft musk.

Spaced Out, sweet Bulgarian lavender, amber and nag champa.
AUTUMN BLENDS
Pumpkin & Sandalwood, sweet pumpkin (with not too much spice) and dry aged golden sandalwood
Autumnal Golden Hour, damp fallen leaves, soft sweetgrass, frankincense, a touch of cinnamon, rotting woods and fallen apples.
Ischau Fig & Honey, green fig and sweet sticky honey
Each bag contains 10, 11 inch sticks. 
Amazing!
I was really excited to try this incense (I got three scents: Pumpkin & Sandalwood, Ischau Fig & Honey & Spaced Out) but I was also slightly skeptical because I am soooo smell sensitive to certain incenses and exclusively burn just plain Nag Champa because it's the only one that makes my house smell good but doesn't make me headachy. None of the scents I got from Blood Moon Botanica trigger my smell headaches, they all burn beautifully—very slow and evenly, and I'm just so excited to have found a shop that I can trust for new smells in my home! Can't wait to try more in future drops!!
Impeccable
It's so good I wanna eat it. I got the pumpkin and sandalwood incense. I feel like a basic witch in the best possible way. Now I have to ration these and hope the next shop updates has them 🤣
Fantastic Incense!
Another stellar product from Blood Moon Botanica! I recently purchased two of the Autumn fragrances and both of them are great. Not only do they smell amazing, but they burn beautifully. Not overly smoky and the perfect amount of punch from the fragrances. Some incense is super smoky and so overpowering that you can't burn them more than a few minutes. But not these - they are perfectly blended! Excellent smell, perfect burn, quality ingredients, and that magical Blood Moon Botanica touch that isn't available anywhere else. If you love incense, you'll love these!
Red cedar and franincense
The incense sticks were amazing 🤌 quick and easy and beautiful way to cleanse and set space or just make the room smell good
Absolutely in love
I've always loved what I bought from Blood Moon Botanica so I decided to try the Warm Amber incense sticks. I was completely blown away at how amazing it smells. The smell stayed consistent and not overpowering through the long burn time as well. I look forward to them coming back in stock!