---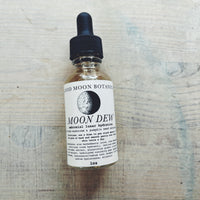 A true magical potion. With 10 years of bath and body formulation experience, I bring to you, my magnum opus of beauty products.
What is hyaluronic acid? It's a polysaccharide and compound that exists in every tissue of our body, and is especially concentrated around the eyes, skin and cartilage. The idea behind topical application is that it "fills and plumps" the skin up giving us a more youthful and hydrated appearance. It's really lovely and gentle addition to any skincare routine. After getting fed up with lackluster ingredients and high price tags for hyaluronic acid serums found on the market with minimal beneficial additives, I set out to make my own.
In this blend, the hyaluronic acid is suspended in a blend of rose water and aloe vera juice along with the following luxurious additives:
Shiitake mushroom extract, may boost the production of collagen and reduces its deterioration. May improve firmness and elasticity of the skin.
Licorice extract is known to soothe skin and reduce redness.
Pumpkin seed extract with time, may reduce the appearance of lines and promote a youthful complexion.
Allantoin, derived from the comfrey plant may help smooth the skin, decreases irritations, speed wound healing and protect the skin.
A radish root and coconut fruit extract fermentation acts as a natural preservative.
Original Moon Dew Ingredients: aloe barbadensis juice, rosa damascena distillate (rose hydrosol), lentinus edodes (shiitake) extract, glycyrrhiza glabra (licorice) root extract, hydrolyzed cucurbita pepo (pumpkin) seedcake, leuconostoc/radish root ferment filtrate & lactobacillus & cocos nucifera (coconut) fruit extract, sodium hyaluronate, allantoin
This is the other facial product I use in conjunction with the luminous oil serum. My skin is combo/oily and acne prone. Moon Dew has not given me a breakout and the smell is wonderful.
Amazing serum
I love Moon Dew. It goes on so smooth, not greasy at all and no heavy fragrance. My new favorite!
My thirsty skin loves this sh*t!
I live in a high desert/arid area with intense sun exposure. While I didn't buy this serum thinking about the aloe vera juice in it, all through this summer this serum doubled as a moisturizer prep, and highly effective soother for parts of my chest, nose, etc that got a little toasted from the sun. It also has lasted me through the summer and into the fall so in my opinion, is a great value. Will definitely buy again.
I usually use it with the luminous glow oil which I also really love.
An everyday essential!
This has become a regular part of my daily skin routine (plus a few drops of luminous glow oil). My skin feels amazing. I'm on my second large bottle and already planning to buy another!
Wonderful
I pair this with the luminous glow serum. I don't have any negative skin reactions which is great! My skin is sensitive and my skin feels amazing right now!