---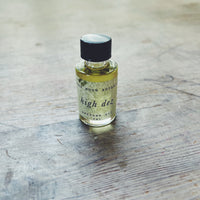 Sale
Dusty days in the high desert. Sticky juniper needles, sun-baked earth, faint hints of big sagebrush, dried woods, and shimmering pink grapefruit at the top.
Dry/Woody/Steppe
Admittedly, this scent may not be for everyone, sampling is encouraged. However, those familiar with the sagebrush juniper steppe may find strong kinship with this unique fragrance. Strong, sharp grapefruit and juniper sits at the top of this blend and swiftly dries down to an atmospheric experience of bright junipers, sagebrush (Artemisia tridentata), woods, and sun-baked earth. Reminiscent of standing in the high desert mid-day sun. Expansive and desolate. This perfume is diluted into a base of sagebrush infused in sunflower oil. 
6ml glass bottle with a hand-painted label, or a 1.5ml sample vial.

Ingredients: Essential oils, fragrance oil, sagebrush extraction into sunflower oil.
If you wanna smell like a feral witch, this is your go to
This is my go to perfume; I restock anytime it's available. I live in the high desert, and High Dez is a beautiful invocation of place. It's dusty and sweet and feral. Absolutely delicious!
Grounding Scent
This perfume oil smells exactly like described. The grapefruit brightens up the green and woodsy scent. I love the subtle aroma it gives off on my skin, and I feel grounded wearing it. To me, it feels like a gentle hug.
Love this unique scent!
I absolutely love all of Britton's perfumes that I've tried so far! High Dez is super unique, like sweet nature in a bottle. Love it!
Smells just like a walk through the sage after it's rained.
Devine! I bought this and a tester of Ponderosa and both smell exactly as they're supposed to.