---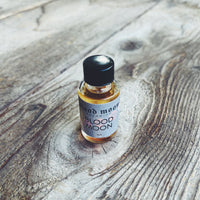 In honor of the full Blood Moon, and the namesake of my craft: Lunar accord, blended with black cherry juice, red dragons blood, red ginger, smokey clove bud, aged patchouli and a touch of red spikenard.
Dark Fruit/Resin/Earthy
6ml glass bottle or a 1.5ml sample vial.

Ingredients: Essential oils, fragrance oil, sunflower oil.
Smells amazing! Very glad I ordered.
It's incredible!
I'm sensitive to scents so I only bought the sample. This scent is dreamy, and immediately evokes the sense of "ritual" to me. I hope there's more on the way! I love it so much!