---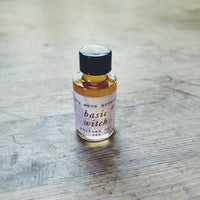 You know them, you love them. Sparkling amethyst accord mingles with plump dark fruits, long faded incense, coffee and a warm rich pumpkin brûlée.
Mineral/Fruit/Gourmand/Incense
This perfume starts strong with dark fruits, and coffee. Then, the pumpkin and incense begin to weave together. Dries down to a cohesive blend of pumpkin, amethyst, faded incense and lingering berries.
6ml glass bottle with a hand-painted label, or a 1.5ml sample vial.
Ingredients: Essential oils, fragrance oil, sunflower oil.
Fall in a perfume
This blend reminds me of everything I love about fall. It's a great pick for days when I'm feeling sweeter.
Loved them all!
I love to support small witchy businesses and this one ranks at number 1. My perfume samples are amazing! I also bought the Moon Dew facial oil; feels amazing & leaves my skin feeling nice and tight after applying. Can't wait to grab some insence next.
Absolutely delicious
I LOVE this smell. It smells so good I wish I could eat it. It is so comforting but also complex. I adore this smell and will continue to buy it.
Autumn Personified
Warm, sultry and my new fave.
Beautiful scents
Beautiful scents wonderful quality