---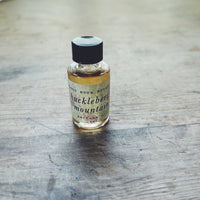 A memory of picking huckleberries under early September skies. Conifer accord, sun-touched huckleberries, forest foliage, dusty roads, wildfire smoke and dried grasses.
Dry/Fruit/Atmospheric/Conifer
This fragrance starts with strong conifer and huckleberry notes and dries down into a soft forest fragrance of distant hucks on the wind, dried grass, smoke and coumarin.
6ml glass bottle with a hand-painted label, or a 1.5ml sample vial. 

Ingredients: Essential oils, fragrance oil, sunflower oil.
One of my favorites
I purchased Huckleberry Mountain when it first came out a year ago..one of my favorite Blood Moon Botanica scents! Very happy to see it back this year...