---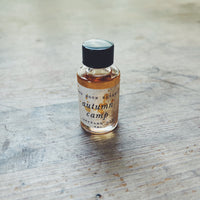 Memories of morning camp in the canyonlands. Brown sugar, butter and oatmeal with candied hickory nuts, clove, fresh apricots, campfire smoke, and a waft of patchouli hand soap.
Gourmand/Spice/Sweet/Fruit
This blend starts strong with sweet oatmeal, nuts and juicy apricots, fading down to spiced smoky sweetness, soft apricot and a touch of patchouli as it wears on.
6ml glass bottle with a hand-painted label, or a 1.5ml sample vial. 
Ingredients: Essential oils, fragrance oil, sunflower oil.
Autumn Camp
Absolutely loved the scent of Autumn Camp. It is one of the best perfume's I have ever used. Just perfect for the fall and winter months.
Autumn Camp
This is such a cozy scent. A little sweet, a little smoky. I absolutely adore it.