---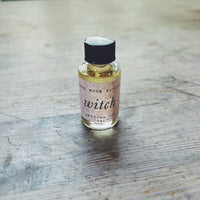 The older, scarier and more mature sibling to Basic Witch. Black musk, beeswax candles, dried vanilla bean husk, soot and lunar night-blooming jasmine incense.
Vanillic/Musk/Smoke
Witch will naturally work with your own skin chemistry for a unique fragrance. Starts with sooty vanilla, and will persist with the vanillic notes for a few hours, finally drying down to a black oud musk. The jasmine is a soft background note to round out and add a layer of mystery.
6ml glass bottle with a hand-painted label, or a 1.5ml sample vial.
Ingredients: Essential oils, fragrance oil, sunflower oil.
Perfect Winter Witch Scent
A mood lifter to wear for the darker months. It reminds me to appreciate my mature beauty.
I've left the little vial open in my sacred space/nook to enhance magical work and cozy time with coffee and a book.
Witch ✨
I love this scent. It's perfect for the darker months! I'm in a really tough place in my life at the moment, and wearing this scent helps me feel more powerful and grounded in myself.
Wonderful!
Lovely scent that evolves throughout the day as I wear it.
Everything I want
The fragrance Witch is everything I didn't know I expected out of a perfume with such a name. Very satisfied! It's mature and proud in standing it's ground, but not in your face.