---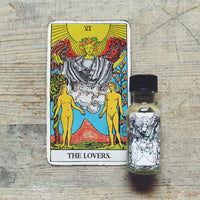 Sale
Tarot anointing oils were created as a desire to connect with the cards in a more embodied experience. These oils can be utilized in practice where you're wanting to connect to the deeper wisdom of the card and carry it with you.
This oil is most definitely to be used in magic, worn as a perfume, used to anoint candles, and for bath water.
The Lovers embodies spiritual alignment, clarity, protection in making choices, connecting deeply within the self and another and opening the way to love — not just with another, but also the self.
Notes in the blend are apple, peppermint, rose geranium, sweet lavender and soft woods.
Presented in a 1/2oz bottle.
Lovers Tarot Oil
Such a lovey oil. Sweet gentle smell. I enjoy working with this oil when doing self love work. I could anoint myself when th it daily, it makes me feel so happy.