---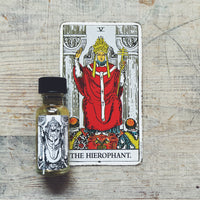 Tarot anointing oils were created as a desire to connect with the cards in a more embodied experience. These oils can be utilized in practice where you're wanting to connect to the deeper wisdom of the card and carry it with you.
This oil is most definitely to be used in magic, worn as perfume, used to anoint candles and for bath water.
The Hierophant embodies connection with spiritual pursuits, understanding ones position within institutions and higher learning, thresholds and gateways and the keys to opening doors to greater understanding, mastery and wisdom.
Notes in the blend are thyme, cardamom, oakmoss, myrtle leaf, oakmoss, sage and rosewood.
Presented in a 1/2oz bottle.
A powerful embodiment of the healer.
The oil is clearly made with high quality products, smells great, and produces the intended vibes!