---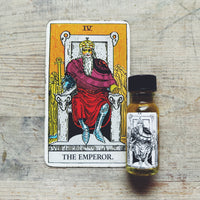 Sale
Tarot anointing oils were created as a desire to connect with the cards in a more embodied experience. These oils can be utilized in practice where you're wanting to connect to the deeper wisdom of the card and carry it with you.
This oil is most definitely to be used in magic, worn as perfume, used to anoint candles and for bath water.
The Emperor embodies structure and empire-building, the foresight and ability to create magnificent intricate schemes and plans to build into the future.
Notes in the blend are ginger, petitgrain, cedar, pine, bay and a good punch of coffee.
Presented in a 1/2oz bottle.