---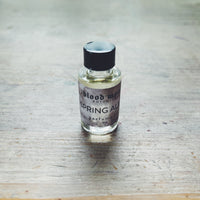 Dark narcissus blooms, green and budding twigs, soft swirling incense and crushed eggshell.
Floral/Green/Mineral/Incense
This perfume starts with strong dark floral notes with a touch of creaminess, mingling with green sappy leaves, and a backdrop of chalky dry notes. Soft incense is throughout.

6ml glass bottle, or a 1.5ml sample vial.
Ingredients: Essential oils, fragrance oil, sunflower oil.
This smells like a hug from my aunt
Smells like a hug from my aunt who always seems be to be put together. You can't catch her without eyeliner and perfectly done hair. Classy, elegant, and rich.
Floral and musk
I put this on and smell like I got a big hug from grandma on a Sunday morning.