---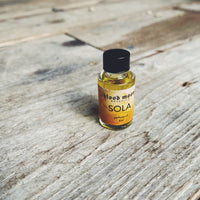 Honey and the sun, melding with atmospheric notes of: golden skin musk, marigolds, calendula resin, neroli, fenugreek, and burning frankincense. 
Gourmand/resin/musk
6ml glass bottle, or a 1.5ml sample vial. 
Ingredients: Essential oils, fragrance oil, sunflower oil.
Sola
This scent is perfectly spicy and warm and wonderful. It indeed feels like a summer day.
So tight!
This perfume makes me feel like a cute lil Hobbit soaking in the sun after secongld breakfast. *Chef's Kiss*
Power Scent
This is one of the richest, loveliest perfumes I've ever experienced. It's sexy, perfectly balanced, deep, and complex, while being completely polite. I sense the honey, but it's not a typical gourmand.