---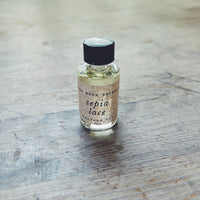 Vintage lace, dust, faded incense, dried bundles of heather flowers and linden with an orris root charm.
Vanilla/Creamy/Floral/Atmospheric 
This blend begins with strong floral and distant fabric notes, mingling with dust and dries down to a soft, creamy vanillic floral.
6ml glass bottle with a hand-painted label, or a 1.5ml sample vial.

Ingredients: Essential oils, fragrance oil, sunflower oil.
Soft and inviting
This scent is to die for. It's warm and inviting and soft. It feels so feminine and ethereal. Like a cozy knit blanket that you just want to be wrapped up in.
So lovely
This scent is so beautiful! I purchased the sample size and I will definitely get the full-size next time if it is restocked! Thank you so much :)
Enchanting
I'm absolutely in love with this perfume. It's not overwhelming, yet it stays on all day. It makes me feel as if I'm a victorian princess every time I wear it. Please restock this item soon!
Bewitching scent , dreamy & soft
I get so many compliments when I wear this. It's not overpowering and the scent stays close to you, making you delicious to hug. It's very dreamy and calming . My kids love to snuggle me when I have it on . A very inviting and ethereal scent. Just got 2 more bottles so I don't run out anytime soon!!
beautiful
I got this with a sample pack, and I fell in love with this fragrance. I decided to wear it for my wedding day, it helped define a beautiful moment ! Truly a dreamy scent, a favorite among my perfumes