---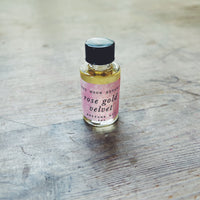 Sale
A sumptuous blend of red dragons blood resin, golden amber, cream, shimmering frankincense and soft rose petals.
Resins/Amber
This deep fragrance smells true to description and wears for a long time. It sits quite close to the skin and amplifies when warm. The rose in this is not strong, and quite subtle with fruity boozy notes. Smells stronger on skin than in the bottle.
6ml glass bottle with a hand-painted label, or a 1.5ml sample vial.

Ingredients: Essential oils, fragrance oil, sunflower oil.
Luxurious
This warm floral makes me feel like I'm wrapped in a beautiful velvet shawl.
This is my go-to smell
I love this scent. It's soft, comforting, and nostalgic, with a little hit of spice. I wear it every day.
Sensual and fun
This scent is warm, full and sexy. I love how I feel when I wear it! It is stronger, muskier and more long wearing than the other BMB scents I've tried.
Amber Heaven
This is lovely. On my skin it's a beautiful rose dusted amber that blooms into an amber that's soft and velvety. I wish I could roll in a field of this while wearing a Gunne Sax dress.