---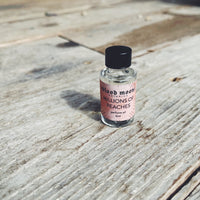 Movin' to the countryGonna eat a lot of peaches
A rich summer dessert of coconut milk and jasmine rice custard, toasted oats, ripe juicy peaches and a drizzle of honey.
Gourmand/fruit
(I had a hard time coming up for a name for this one, please do not mind my dated Presidents of the United States of America song reference. It was low-hanging fruit, pardon the pun.)
6ml glass bottle, or a 1.5ml sample vial. 
Ingredients: Essential oils, fragrance oil, sunflower oil.
I am happy it isn't artificial smelling peaches. It's a deep smell and I smell it all day.