---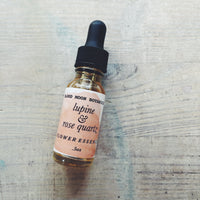 This flower essence was made under a deep need and a great call to soothe myself.
Lupine helps in rewriting pathways to fearful responses like anxiety and panic and shifts us into a more calm state. Combined with the naturally soothing, calming, loving and nurturing aspects of rose quartz this can be an ally in helping rework/rewrite our beliefs around how we process anxiety, trauma, and depression.
While this is by no means a cure-all, Lupine has been and continues to be a powerful ally for me when I am needing to shift perspective and transmute the pathway of how my own anxiety show up.
Presented in a 1/2oz bottle with a hand painted label.
Ingredients: brandy, wild mountain spring water, flower essence, sun
This statement has not been evaluated by the Food and Drug Administration. This product is not intended to diagnose, treat, cure, or prevent any disease.
Anxiety help
This is going to sound odd, perhaps, but my anxiety intensified but I believe this essence helped identify the true source of my fear in order to eliminate it fully.