---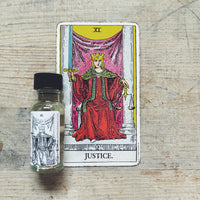 Tarot anointing oils were created as a desire to connect with the cards in a more embodied experience. These oils can be utilized in practice where you're wanting to connect to the deeper wisdom of the card and carry it with you.
This oil is most definitely to be used in magic, worn as perfume, used to anoint candles and for bath water.
Justice is cool and measured decision. It helps us understand how to balance the scales of life. Justice provides clarity and can better our understanding of the institutions of law and order. The righteous sword of Justice will cut through the heart of the matter and let us see what we need to see.
Justice is a simple but complex blend of, myrtle, palmarosa, spearmint and bergamot.
Presented in a 1/2 oz glass bottle.