---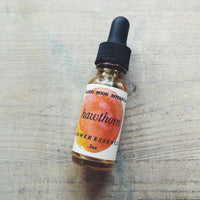 This essence was gathered during the day and hour of Venus.
Hawthorn is a highly protective fire mother. She is deeply connected to the heart.
She can guide you through emotional pains, distress and heart ache. She will move you through it, not around it.
You may find Hawthorn helpful during times of heartache, when courage and bravery of the heart is needed, when protection of the heart is needed and when you're needing to connect more deeply with your pains rather than avoid them.
She will guide you through and in this process, transform you.
Presented in a 1/2oz bottle with a hand-painted label.
Ingredients: brandy, mountain spring water, sun and hawthorn flower essence
This statement has not been evaluated by the Food and Drug Administration. This product is not intended to diagnose, treat, cure, or prevent any disease.
Well made product!
Made with care and quality. I'll definitely use this regularly as needed!