---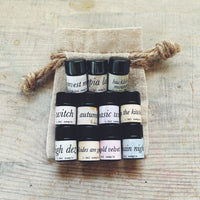 All 5 autumn perfumes for testing.
Autumn Camp -- Memories of morning camp in the canyonlands. Brown sugar, butter and oatmeal with candied hickory nuts, clove, fresh apricots, campfire smoke, and a waft of patchouli hand soap.
Huckleberry Mountain -- A memory of picking huckleberries under early September skies. Conifer accord, sun-touched huckleberries, forest foliage, dusty roads, wildfire smoke and dried grasses.
In the Kitchen -- Sweet lavender cornbread, a pinch of thyme, clean kitchen linens and soft woods.
Samhain Night -- Graveyard dirt, rustling autumn leaves, a bundle of protective herbs along with vetiver and spikenard.  Contains herbal ingredients that are not suited to folks who are pregnant, nursing or planning to become pregnant.
Blood Moon -- In honor of the full Blood Moon, and the namesake of my craft: Lunar accord, blended with black cherry juice, red dragons blood, red ginger, smokey clove bud, aged patchouli and a touch of red spikenard.
Each are 1.5ml and presented in hand-painted labels and a small jute bag.
Ingredients: Essential oils, fragrance oil, sunflower oil.