---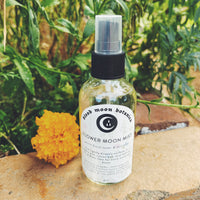 A beautiful blend of floral waters to calm and hydrate the skin. Organic lavender, rose, and chamomile waters are blended with an alcohol free witch hazel hydrosol to tone the skin, along with calendula extract to calm redness and provide uplifting hydration. Flower essence enhanced with Lupine & Rose Quartz.
Spritz your face lightly before applying Moon Dew for extra moisture support. Follow with Luminous Glow Oil for an ethereal glow.
4oz glass bottle with spray cap
Ingredients: organic lavender, chamomile, rose, witch hazel distillate waters, calendula extract, leuconostoc/radish root ferment filtrate, lupine & rose quartz flower essence
love using this as a toner!
have wanted to experiment with a toner that i can pronounce all the ingredients in and know where it has come from; this toner checks those boxes in addition to being wildly hydrating. the amount is generous and the smell is refreshing and herbal. i feel like this is another way to take better care of myself