---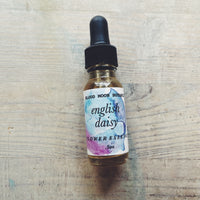 Flower essences are a subtle vibrational magic captured in water and preserved with alcohol. You can read in full here, about my experience in making this flower essence.
This particular essence was made on the day and hour of Venus and finished into the dusky hours of night. It carries the brightness of the sun and its warm light into dark places. This is good medicine for transitions, and brings an element of joy back into your body when you're feeling overwhelmed and burdened.
Reinstate soft, compassionate joy.

Holding a light while going into darkness.

Exploring purity and innocence of our being.

Warm gentle Venusian support.

Joy amid our responsibilities.

Maintain a tether to joy and softness as we shift into deep introspection.

Sweet bubbly feelings in the gut.

Turning into our torso: clavicle, heart, gut and pelvic regions.
Each bottle comes with a hand painted label and will be uniquely yours.
Ingredients: pristine well water, alcohol, english daisy essence (bellis perennis)
This statement has not been evaluated by the Food and Drug Administration. This product is not intended to diagnose, treat, cure, or prevent any disease.
one of my favorites
i use this flower essence whenever i need to do a deep reconnect of myself. i feel that the essence encourages a strong hermit, solitude mentality and space; which i find brilliant for reminding me of my own worth and my own success.