---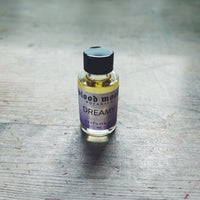 The ultimate lavender perfume: High-grade Bulgarian lavender essential oil and absolute, tea-like hyssop, sweet and creamy tonka bean, amber accord rich with labdanum. 
Herbal/Amber
Persistent lavender notes throughout this dreamy perfume blend. Calms the nerves. Tonka bean adds creaminess, while amber adds groundedness to this blend and soft hyssop adds unique herbal tea like notes.

6ml glass bottle, or a 1.5ml sample vial.
Ingredients: Essential oils, fragrance oil, sunflower oil.
Smells like relaxation
My favorite of the three perfumes I got. All are good but Dreamy seems to make me feel at home.
So dreamy
I am absolutely in love with this perfume! It's perfect for my nightly self care as it makes me feel confident, uplifted, and soothed all at the same time! The lavender is so warm and inviting and it's richness really transfers you to beautiful and calm place. Used with the body butter and it's a whole nother level!
Shifts Like a Dream
This scent is lavender perfume's elder sibling, perfect for the person who likes their florals exalted. Popular associations with lavender include sleep, clean laundry, tranquility. This botanical is a friend and ally to those of us in need of some quiet. But it does also tend to occupy all the space it enters. Newly applied, lavender is the principal focus of this scent. It is a rich, and elegant presence, floating to the top of the scent profile. The fine quality of the botanical becomes especially evident here, as it does not overwhelm.
Dreamy marries this floral with rich, darker notes. It comes alive on the skin, scent notes akin to incense elongating with warmth. Lavender pulls back to reveal a resinous heart. This is where Dreamy truly, truly shines. The scent transforms seamlessly, violet to gold, fit for the titaness of Night, incarnate.