---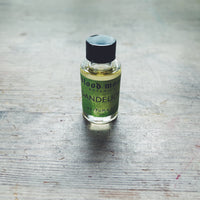 Sappy green dandelion leaves, yellow sticky blooms, a touch of dirt and a cup of creamy roasted dandelion root tea.
Green/Dirt/Sap/Soft Floral
This is a very green sappy scent, soft rooty notes linger in the background while a very gentle floral mingles throughout. 

6ml glass bottle, or a 1.5ml sample vial.
Ingredients: Essential oils, fragrance oil, sunflower oil.
Get that Dandelion
Loved it. Smells nice. Hekate approved. Will definitely get more.
smells like home
I'm from the southeastern US, where it seems the dandelions bloom almost year-round. This smells like home, and I adore it. It's not very strong, but it's light and floral, green and natural.
Dandelion perfume
Thank you so very much for this scent. I recently bought a wee sample size of the dandelion perfume and it is absolutely wonderful. I was instantly transported to a picnic on a hot summer day. A delicious, deep, buttery smell that softened wonderfully on my skin.
Dandelion
I LOVE this scent so much! I ordered the sample and once it arrived, quickly treated myself to the full size. It's grassy and floral and just the perfect reminder that nature is always with us, and the resilience of the little powerhouse that everyone thinks is only a weed!