---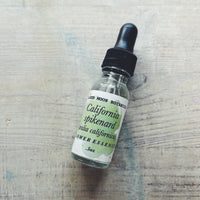 This flower essence was gathered two years ago in the Cascade mountains, in a large basin of a waterfall. There was dappled sun, and waterfall mist that went into the making of this essence.
There isn't a lot of information on California Spikenard as a flower essence, much of this is my own gathered sense about having periodically worked with this flower.
She may reveal her own mysteries to you, but here is what I have discovered…
California spikenard is known as the Queen of the Forest. She is found in draws and creek drainage's through the Cascade range and much of western California. Her roots are aromatic and are an amazing medicine for the lungs. The arial parts of this plant die back each fall and reemerge each spring. When you meander through the forest in summer, you cannot help but notice her. She just captures your attention. A Queen of watery places.
This essence has helped me with my own sovrenity over my person-hood, my identity, my body and my right to occupy spaces. My right to take up space where appropriate, my right to take up space where I may feel small. There is also a connection here to the ancestral matriarchs and women in my bloodline.
This essence has helped me step out when I feared to be seen, but wanted to be seen.
She helped me shine.
She aided me, in being the Queen of my own garden, my own forest, my own ecology.
She taught me to hold my head high, when I felt so low.
Presented in a 1/2oz bottle with a hand painted label.
Ingredients: brandy, wild mountain spring water, flower essence, sun
This statement has not been evaluated by the Food and Drug Administration. This product is not intended to diagnose, treat, cure, or prevent any disease.