---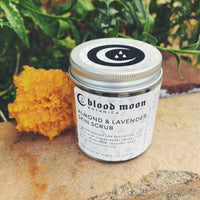 A dupe for a popular skin scrub (iykyk). This fresh made gentle skin scrub contains almond flour, kaolin clay and lavender buds for soft exfoliation of the skin. Rose water, organic lavender honey and a comforting blend of essential oils give this scrub its lovely soft and moldable texture. When combined with water, it turns into a milky cleanser, or follow up scrub after cleansing and removing makeup. Doesn't strip the skin, but leaves it lightly moisturized.
How to use: scoop out a nickle or quarter sized amount with a *dry* finger and mix with a little water, or toner (like Flower Moon Mist) into a spreadable paste (you want to avoid introducing water to this product/jar to prevent mold issues!). Apply to face and scrub gently, avoiding the eye area. Rinse with cool water and follow up with Moon Dew and Luminous Glow Oil. Use as often as you wish, or 3-4 times a week.
This product has a shorter shelf life due to the fresh nature of these ingredients! When stored in a dark cool place in the bathroom, use within 3-4 months. If refrigerated, use within 6-7 months. Because of the limited preservation of this product, please throw it away if any mold should occur.
3.5oz in a glass jar, filled by weight not volume
Ingredients: ground almonds, kaolin clay, raw lavender honey, rose water, chamomile, lavender and marigold essential oils, lavender buds, leuconostoc/radish root ferment filtrate
A lovely scrub
This scrub is a near exact dupe of that heavenly luscious facial scrub we all know and love ;) It's gentle and rinses off easily leaving a nice bit of moisture behind. Definitely recommend it if you are a fan of the original!