---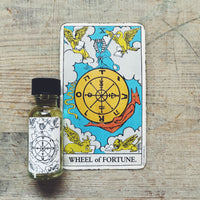 Tarot anointing oils were created as a desire to connect with the cards in a more embodied experience. These oils can be utilized in practice where you're wanting to connect to the deeper wisdom of the card and carry it with you.
This oil is most definitely to be used in magic, worn as perfume, used to anoint candles and for bath water.
The Wheel of Fortune is a contradiction. In each corner of the card, are the four fixed signs of the zodiac: Leo, Taurus, Scorpio and Aquarius representing each element of fire, earth, water and air. Within the center is the wheel, ever turning and moving. This card holds both a fixed and grounded nature, yet is on the move. This card speaks to the flux of life, sometimes we're on top, sometimes we're on the bottom or in the in between. This card can help you understand the seasons and cycles of life. 
Notes within this oil are, atlas cedarwood, clove, nutmeg and saffron. 
Presented in a 1/2oz glass bottle. 
Wonderful
The Wheel is my favorite card, and this may be my favorite of the Tarot oils. The scent is difficult to describe.. but it hits all the right notes. I love working with it, and even wear it occasionally.