---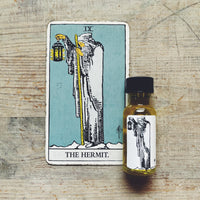 Tarot anointing oils were created as a desire to connect with the cards in a more embodied experience. These oils can be utilized in practice where you're wanting to connect to the deeper wisdom of the card and carry it with you.
This oil is most definitely to be used in magic, worn as perfume, used to anoint candles and for bath water.
The Hermit is a card of deep solitude and seeking for the deeper mysteries of life. This card teaches us to leave behind the superfluous things in life and go minimalist with our deeper spiritual work. You have all the tools you need already. The Hermit can be a card of loneliness, but it is one of sacred seclusion and draws us deeper into our studies, dreamwork and myth.
Notes within this oil are of, sage, wintergreen, caraway, narcissus and lavender.
Presented in a 1/2 oz glass bottle.