---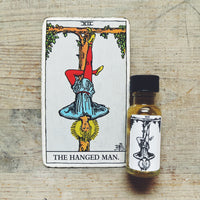 Tarot anointing oils were created as a desire to connect with the cards in a more embodied experience. These oils can be utilized in practice where you're wanting to connect to the deeper wisdom of the card and carry it with you.
This oil is most definitely to be used in magic, worn as perfume, used to anoint candles and for bath water.
The Hanged Man is betwixt worlds and hangs in the suspension of difficult situations while maintaining calm. This card enables us to see from a different perspective and adapt to new situations that arise for us. It also acknowledges where we are stuck or hindered and to find the blessings within. This card has deep connection to the story of Odin and when he was hung on the world tree for 9 days and nights to gain knowledge of magic and runes. Even in the toughest of situations, we can find the magic. An excellent oil for working between the worlds. 
Notes within this oil are of, mugwort, spikenard, myrrh, sandalwood and amyris.
Presented in a 1/2 oz glass bottle.