---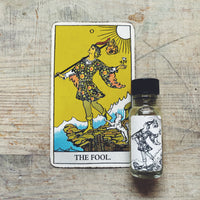 Tarot anointing oils were created as a desire to connect with the cards in a more embodied experience. These oils can be utilized in practice where you're wanting to connect to the deeper wisdom of the card and carry it with you.
These oils can also be used for magic.
The Fool can help open the way and bust up old structures as the card is ruled by the rebellious planet, Uranus.
If you're needing a fresh start, this is your oil.
If you want to take the leap with grace and understanding, this is your oil.
If you're wanting to cultivate an open heart while taking that leap, this is your oil.
The sensory experience from this perfume is difficult to describe. Out of the bottle it is a paradox of both sharp and soft notes. The rose among the jagged rocks of the mountain. It is clean and clear as mountain air, with a hint of soft white rose on the edges as you bound toward that which is unknown to you, and it, to you!
It's exhilarating.
Notes are of, two types of nialoui, sweet fennel, copiba balsam and organic white rose absolute.
This is a very limited batch.
Presented in a 1/2oz glass bottle.