---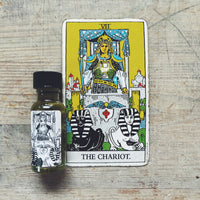 Sale
Tarot anointing oils were created as a desire to connect with the cards in a more embodied experience. These oils can be utilized in practice where you're wanting to connect to the deeper wisdom of the card and carry it with you.
This oil is most definitely to be used in magic, worn as perfume, used to anoint candles and for bath water.
The Chariot would see us moving toward victorious endings and beginnings. The Chariot teaches us how to direct our will in constructive ways and allows us to understand the force of our own will. The Chariot is the shaman or witch who is connected to the earth and cosmos and utilizes and makes kin with all the elements around them.
Notes within this oil are, corriander, carrot seed, bay leaf, chamomile, labdanum, and altas cedarwood. 
Presented in a 1/2oz glass bottle.