---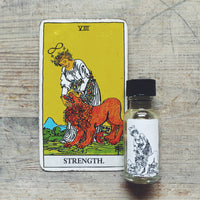 Tarot anointing oils were created as a desire to connect with the cards in a more embodied experience. These oils can be utilized in practice where you're wanting to connect to the deeper wisdom of the card and carry it with you.
This oil is most definitely to be used in magic, worn as perfume, used to anoint candles and for bath water.
Strength is a warming card of inner and outer spiritual strength that we can hold with us through ordeals. This card is rooted deeply in the soil and allows us to understand the passions which we hold within ourselves and how to direct them in a constructive way. Strength also carries with it an air of protection.
Notes within this oil are, rosemary, juniper, neroli, cinnamon, vetiver, sandalwood, and orange peel. 
Presented in a 1/2oz glass bottle.
STRENGTH
Love the strong earthy, but sweet tones to it. I feel victorious and aligned with my intentions to grow in strength every time I use it. :)
Solar Delight!
I just can't stop sniffing this! I'm a Mars-in-Leo ruled person with a Leo stellium, so I'm always vibing (for better or worse!) with the Strength card. I can't wait to anoint myself in this oil and let the sunshine in.