---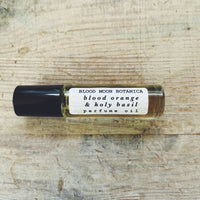 A fine blend of blood orange, holy basil, cedarwood, amyris, white cedarwood and bergamot.
This oil can be used as an uplifting perfume, or as a deodorant oil.
.3oz in a glass roller.
So pretty!
This is clean, fresh, nicely layered, with a bit of mystery. It's like the smell of peeling oranges an the herb garden taking in the views of the sea. I wear unscented deodorant, which is super boring, so this is nice to add another layer of delicious, bright scent over that.
Beautiful smell!
Smells delicious. I just wish it held its smell longer than what it did. I have to reapply it but ugh, smells so good.
clean and fresh!
i bought this for my partner because they love citrus scents. while i never used it on my skin, they have been using it since (going two years strong!) and it only gets better with age. the scent on them is citrus-y, but there is this intriguing other scent that's sharp, in a good way, from the woods in the blend. it's a great clean scent for someone who just wants to smell "fresh", as it gives off the impression of being straight out of the shower and immediately outside in the garden. beautiful!
Mediocre at best
Blood orange & Tulsi perfume was incredibly basic and could easily be made (if you wanted to recreate) with your own essential oils and carrier. It lacked depth of notes and while I hoped it would change when worn it didn't. I also got a sample of sepia lace which I much preferred but I'll seek my scents elsewhere.
Sorry that Blood Orange & Tulsi didn't work for you. Skin chemistry is a strange and unique thing, some notes play different on our skin as compared with another person. This particular blend contains 8 different components. Deodorant oils are slightly more diluted than the more concentrated perfume oils, making the wear a little different. I hope you find what you're looking for!